Doors in St. Louis
The right door for your home or business can deliver so many possibilities – enhanced curb appeal, security, personalization and more. XL Building Products offers a selection of high-quality interior and exterior doors from leading manufacturers you trust.
Whether you're looking for a sleek, modern style door or something more traditional, XL Building Products has the solution for you. With a variety of materials, styles, colors, shapes and sizes, our complete selection of doors offers the perfect mix of functionality and design to meet your requirements.
We specialize in replacement doors for rehabbing unique homes in the renowned St. Louis historic district, multi-family housing facilities and residential homes. At XL, we give you the products and the design freedom to create the perfect look for your project and can even set your home or business apart with specialty glass and decorative hardware options.
Check out the latest brands we offer, including ABP, Wall-Vern, Masonite and Lincoln. Learn More.
Interior Doors
The choice of a well-engineered interior door does more than just separate rooms and add privacy to your home or business – it's one of the most noticeable design elements that adds beauty, character, functionality and value to your property.
Whether you're building, remodeling or rehabbing, there is no better way to complement the interior of a home or business than choosing a door that compliments the decor. From modern to rustic styles, we provide a variety of door options to fit aesthetic desires, specification needs and renovation budgets, providing satisfaction for years to come.
---
Exterior Doors
Choosing an exterior door for your home, business or organization is one of the most important factors in creating an excellent first impression. At XL, we offer an exclusive line of exterior doors in unlimited design possibilities and made-to-order options to fulfill your requirements.
Choose from our exterior door options in wood, fiberglass and steel to reflect your style preferences. We offer exterior doors in just about every species of wood, but be sure to match your décor in terms of style, color and materials used – if the woodwork inside your home is made of cherry or mahogany, chances are you won't be happy with a front door made of pine.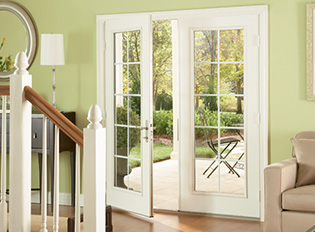 ---
No matter what you're looking for, XL Building Products is sure to have a door solution for you. We can even refer you to a preferred contractor for professional installation. For more information about the doors we offer, Contact Us today!