Historic Windows
St. Louis is known for having some of the oldest historic properties that were built more than a century ago. The city is filled with buildings of significant architectural merit that are protected by city, state and federal historic building legislation.
Whether your project involves hundreds of windows with special radius designs in a historic building Downtown St. Louis or a few custom-shaped wood windows in your colorful Contemporary Kirkwood home, XL Building Products has extensive experience and expertise in preserving and maintaining St. Louis historic windows. We work with a wide variety of suppliers to ensure that our windows meet the specific historical and zoning requirements present in St. Louis. Our historic windows come in multiple styles and size combinations, plus an array of custom designs, shapes and trim options – all providing energy efficiency and climate control no matter your home's age.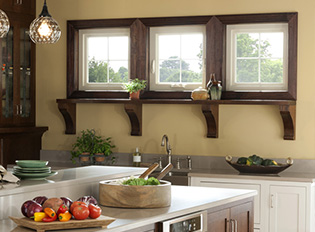 Historic Tax Credits
Not only do our products conserve energy and provide increased aesthetic appeal, but they meet very specific tolerances for tax credit and abatement projects. Our associates will help guide you through the entire process of getting the historic tax credits for your property.
Renovating historic buildings allows financial incentives available from city, state and federal resources. Using tax incentives, builders and developers can alleviate significant costs of a historic renovation in order to carefully preserve and restore historic buildings. In order to qualify for these historic tax credits, a property must:
Be listed on the National Register
Be a contributing resource within a National Register District
Be a contributing resource within a Certified Local Historic District – must contribute to preserve America's historic past.
Have a total project cost of at least 50% of the basis of the property.
Zoning Requirements
Each local Historic District Ordinance has a unique set of rehabilitation and design standards that architects, builders and developers are required to follow in order to earn historic tax credits. These standards should be applied to both the interior and exterior of historic properties and must be reviewed for compliance.
Let our team help bring your historic windows back to their full beauty and functionality. Our experienced professionals will help you find the perfect windows to retain the original appearance of your historic property – maintaining the integrity of your home and paying attention to the most intricate details. Contact XL Building Products to discuss how we can update your historic home or building in St. Louis.